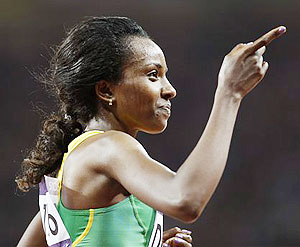 Ethiopia's superstar athlete Tirunesh Dibaba and teammates Meseret Defar, Gelete Burka, Tejitu Daba and Shitaye Eshete have advanced to Women's 5,000 meters final.
Previously, Ethiopian Olympic Committee did not schedule Tirunesh to run in the 5,000-meter, but after her powerful performance in the 10,000-meter on Saturday, the committee relented and allowed her to run.
The Ethiopian Olympic Committee has been at odds with many of the athletes because of its arbitrary decisions that doesn't take the interest and wishes of the athletes into consideration. Fortunately, the committee relented on Tirunesh's case. "She will run, 100 percent," said the Olympic Committee's technical director Dube Jilo on Sunday.