Taiwan donates rice to East African countries
2012/06/01
Taipei, June 1 (CNA) Taiwan is donating 1,150 metric tonnes of rice to East African countries for refugees who have been displaced by famine and the worst drought in the region in 60 years, the Ministry of Foreign Affairs (MOFA) said Friday.
The food aid will be shipped by boat in three batches, said Wu Rong-chuan, vice chairman of the MOFA's NGO Affairs Committee, at a donation ceremony at Taichung Harbor Container Terminal.
The rice has been packaged in 3-kilogram bags that will be easy for refugees to carry and bear the words of "Love From Taiwan," along with an imprint of the ROC flag, according to Wu.
The national Agriculture and Food Agency inspected the rice to make sure only the best quality is being sent, especially as the shipment will take 35 days, Wu said
East African countries, including Kenya, Somalia, Ethiopia, were hit by a severe drought in July 2011 that caused the displacement of 13 million people, Wu said.
In the aftermath of the drought, Somalia refugees have been flooding Kenya's borders, which is aggravating the famine situation, he said.
The Taiwan government is working with several non-governmental organizations (NGOs) to provide aid to the East African countries, Wu said.
For example, the Red Cross Society of The Republic of China has contributed to a cash donation of US$650,000, while the U.S.-based Feed the Children is paying to ship the rice, he said.
The food aid is part of the MOFA's plan to execute President Ma Ying-jeou's policy of making Taiwan a "humanitarian aid provider," Wu said.
(By Huang Chin-kung and C.J. Lin)
ENDITEM /pc
http://focustaiwan.tw/ShowNews/WebNews_ ... 1206010019
ለማኙ መለስ ዜናዊ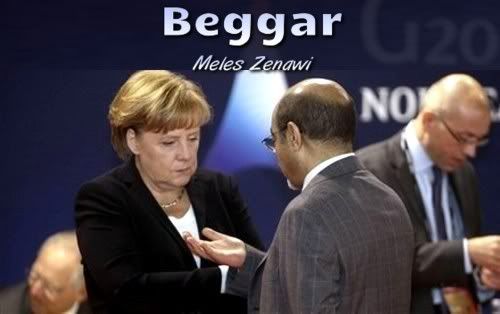 German Chancellor Angela Merkel encountered a persistent beggar