Egypt's Pope Shenouda chides Ato Gebremedhin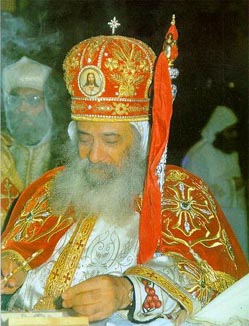 The Patriarch of Egypt's Orthodox Church, Pope Shenouda III, had visited Ethiopia over the weekend and told Ato Gebremedhin (formerly Aba Paulos) that he and other officials of the church are holding office to serve the people, to be responsible for their wellbeing, not to have authority over them.
The Pope, who is loved and respected by Ethiopian Christians, was received at the Bole Airport on Friday, April 11, by the fake pope, Aba Gebremedhin, who is a Woyanne cadre.
Ethiopia's legitimate patriarch is currently in exile after being forced out of the country by the gun-totting former Aba Paulos.
On Sunday, Ato Gebremedhin took Pope Shenouda to Holy Trinity Cathedral Church in Addis Ababa. It was here that Egypt's Pope chided Ato Gebremedhin by reminding him that he is a servant of the people, and that when people are abused, become hungry, and poor, "you religious leaders have the responsibility to act."
Pope Shenouda also said church officials must always remember that they are holding office to serve the people, not for the sake of having authority over the people. The thousands of people who were at the church responded to the pope's comment with laud cheers and gestures of appreciation. That might have been an uncomfortable moment for the Woyanne cadre and real estate developer posing as Ethiopia's pope.
Pope Shenouda also said that Mengisu Hailemariam had disrupted the historical and close relationship between the Ethiopian and the Egyptian Orthodox churches, but, he added, "God bless him where he is." The audience erupted in loud cheers and applause, it seems, just to let the current rulers know that they are worse than the Derg.
The pope spoke in English as Mulugeta Asrate-Kassa translated to Amharic. But most people understood what the Pope was saying and did not wait for the tongue-tied translator to react to his sermon.
The 84-year old Pope Shenouda is the spiritual leader of Egypt's 9.5 million Orthodox Christians.